How clinic management software help to improve your productivity
September 2, 2022
Hospital administrative tasks can be very time-consuming! For the medical staff at work, more often than not they become a major distraction from the core duty of attending to the patients.
Although administrative tasks in any medical institution can't be overlooked, the staff can feel bombarded with extensive paperwork making it challenging to focus on patient care. Yet, according to research, 86% of errors made in the healthcare industry are administrative.
It's no secret that in today's healthcare landscape, it is critical to deploy a support system to manage the everyday management jobs. Considering, top-notch patient care remains the primary focus of every hospital or clinic.
In this article, we shall focus on key ways by which the productivity of a medical institution can be enhanced opening doors to better Patient Management.
1. Optimizing the Team:
Employing with utmost caution is important! Not just the medical staff but the support staff needs to have the required skillset and experience in handling their respective jobs.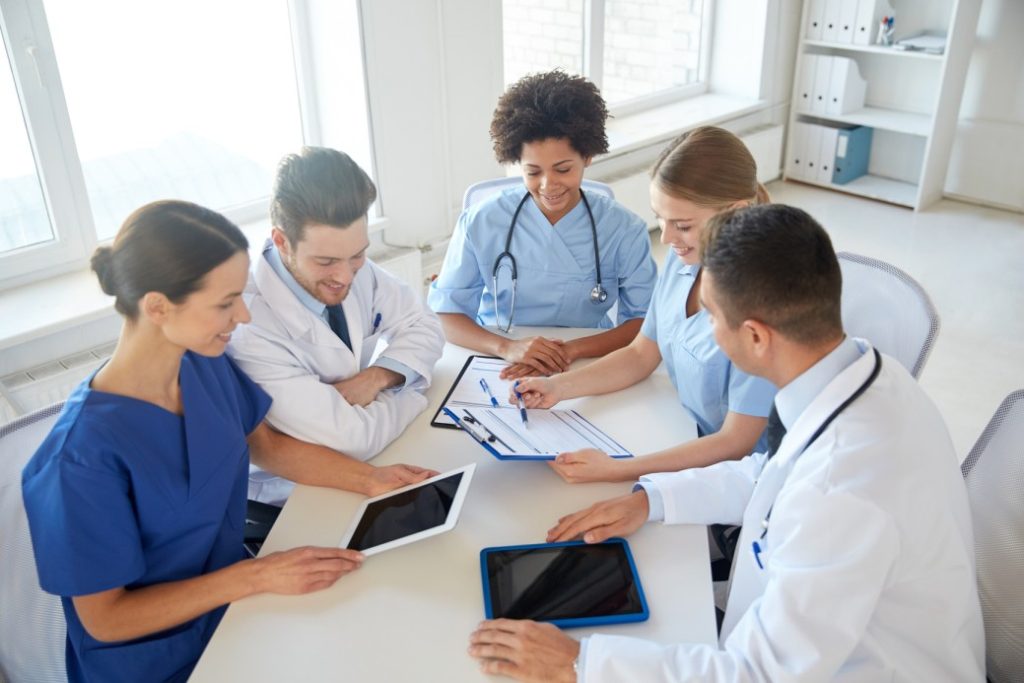 To manage the workload, a support staff that includes accounting, marketing, customer relationship, cleaning, professionals need to be employed. Integrating a 360-degree Hospital or Clinic Management Software can help manage the various departments even with a limited workforce. Software like that will not only help the core administrative individuals to keep a track of jobs but also help in staying on top of the numbers involved.
Depending on the size of the institution, the management can choose the departments that will need additional staff while understanding their job profiles.
2. Allotting Tasks Efficiently:
Task allotment can get tricky in a clinic! There is an unpredictable number of patients coming in. Considering the unprecedented pandemic times, these numbers are truly fluctuating each day.
Therefore, there need to be frontline teams, backup staff that can replace the allotted individuals in case of emergency. Proper patient care schedules are made with the staff that shall be attending to each one of them.
While these functions can be performed digitally using effective software, one can also execute them manually. It can be time-consuming in case of manual management but will streamline the workflow for the day/week. This scheduling also helps in bringing everyone on the same page.
3. Digitizing the Billing Processes & Inventory Stock Management:
There is no way a hospital can keep track of the finances without having a financial record of every single detail. It is not just the patient billing, but also the inventory stocking. This is a rather extensive task and requires regular tracking.
Prone to errors if handled manually while calling for both focus and time, it reduces the productivity of the employees. Therefore, for this part, particularly digitalization is highly recommended. One financially experienced professional can manage the same smoothly with the support of a Clinic Management Solution.
4. Maintaining an Electronic Database of Medical History:
Understanding each patient's journey throughout the treatment and knowing the medical history is crucial for the physician and the nurses too.
An electronic cloud-based server is more than efficient to maintain even the most extensive data. Medical records are also highly confidential and need to be kept in a secure environment, there isn't a better medium than storing them digitally.
Keeping the medical history of the patients can come in handy during the evaluation process. It is incredibly easy to access, even remotely. This information can be updated as and when required by the designated staff members.
While manual management sounds a familiar option, it takes much longer and is messy and error some.
Similar Read: Paper-Based Medical Records vs Electronic Medical Records Software
5. Formating the Reports & Patient Details:
As we handle data manually, different people can format the information differently. There is a bright chance that the data is incomprehensive after a point in time.
Using a Clinic Management Solution, the staff members will have one set format and portal to store information in. It is indefinitely a faster alternative to fill in the required information and get the processing started.
6. Proper Training of the Staff:
With the help of proper training of the new types of equipment and software in the hospital, the learning curve can be optimized. Certain medical institutions conduct seminars and workshops throughout the year to bring people on board with the latest technology.
This, in turn, enhances the productivity of the staff and they are well-versed with the improved techniques. Workshops to explain the nitty-gritty of software/medical equipment handling especially for the staff members who aren't tech-savvy.
SoftClinic Clinic Management Software
As the need of the hour suggests integrating a Hospital Management Software is inevitable and Softclinic can help you do just that.
With experience in working on the diverse verticals of the medical industry, Softclinic has a proven success record. The team of experienced and skilled Healthcare IT professionals provide hospitals and clinics with a customized software solution to manage their administrative workload.
Key Management Features
Generate Prescriptions in less than 60 seconds.
Easy to use patient visit details (OPD/IPD) modules.
Prescription in regional language.
Family wise patient records management
Various Predefined Certificates.
Detailed demographic and clinical data analysis
Conclusion
As clinics observe higher patient volume and increased demand for efficient planning, software solutions are becoming the go-to option. Hospital and Clinic Management software adoption is increasing at a rapid pace, to compensate for the overwhelming managerial pressure. SoftClinic Software, used in 40+ countries, is worth considering if you too are looking to boost productivity at your clinic.
Also Read: Cloud-based Hospital Management Software VS On-Premise – What to opt?