COVID-19 Proved, Telemedicine is the future of Healthcare
July 18, 2020
With rampant lockdowns, social distancing and restrictions being imposed on public services, Healthcare has no option but to go digital.
Meet Telemedicine, which is the telecom equivalent of healthcare. It enables you to consult a doctor over a video call, share medical reports and order medicines, without moving an inch.
Since COVID-19 broke out, Google searches for "telemedicine" and "telehealth" skyrocketed more than 500% as shown in the graph below.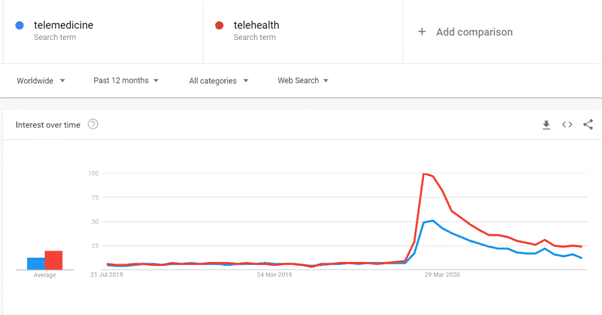 Telemedicine is expected to be the next 100 billion dollar industry by 2026. Telemedicine future will observe active adaptation to the challenges brought by the pandemic. This will include increased remote consulting, growth of Telemedicine Software, and people getting comfortable in meeting their doctor on their laptop.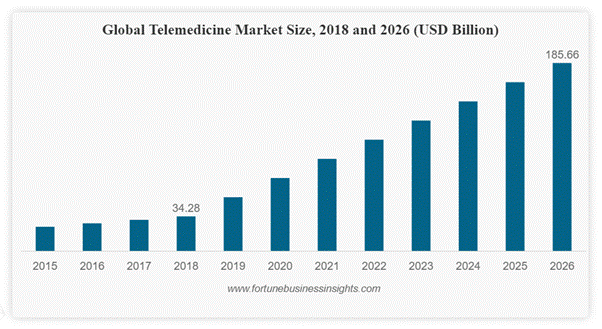 Key Facts that Prove Telemedicine Will Continue to Prosper
COVID-19 Isn't Withdrawing Soon
According to Vox, COVID-19 will only begin to regress when a significant level of immunity is achieved in public. This may take more than 2 years and that too if the immunity strengthens over time.
In such a scenario, lockdowns and mobility bans will be commonplace. Therefore, reliance on remote healthcare is apparent, and Telemedicine is the obvious solution in sight.
This can further be proved by Robo Globa's research which indicates that 93% of people who used Telemedicine are inclined to use it again.
Telemedicine Adoption is on the Rise
Physicians, Hospitals, Mental health counsellors – everyone across the healthcare spectrum is shifting to telemedicine-based delivery of services.
North Carolina's Novant Health, experienced a surge of its video visits from 200, to more than 12,000 per week. Same goes for New York University's Langone Medical Center, who now runs 70% of its visits using Telemedicine software.
As more healthcare institutes connect to the online platforms, the adoption of telemedicine will continue to penetrate deeper. As of now, it is limited to local hospitals but it will soon move to independent clinics and home-based medical consultants.
Government and Funding Support
In the US, the Medicare programme is undergoing a revival with extensive support for telehealth and telemedicine providers. The existing restrictions will be relaxed and access to $200 million of funds will be available for such companies moving forward, in response to the pandemic.
Seema Verma, the administrator at the Medicaid and Medicare Services, had made this announcement back in March. Following which the funding for Telemedicine also started pouring in large volumes.
The same can be noticed in the sharp rise in the volume of investments between February and April this year. This happened while other sectors of the economy badly struggled to stay on their feet.
Telemedicine Software Revitalized
In the pre-COVID19 era, the Telemedicine software could be best classed as "emerging" but now, it is the key driver of the revolution.
The Telemedicine technology segment will grow at a CAGR of 15% from 2017 to 2025. The growth is spurred by more and more healthcare institutes looking to offer a telehealth solution to their patients.
As of now, the software market is making moves both in the direct hospital-based telemedicine solution and an open mobile-app based solution wherein professionals participate as consultants. Some examples of the same are Teladoc and Dexcom.
SoftClinic Telemedicine Solution
SoftClinic is a telemedicine software provider, empowering hospitals and clinicians to deliver accurate telemedicine services with a cutting-edge software solution, backed by over two decades of development.
Telemedicine & Online OPD Solution
The solution takes your OPD to a virtual platform which is designed to act just like your in-house OPD, but with advanced features. Some of which include;
Chat and Video Communication
OPD Management
Invoice and Payments
Online prescriptions
Appointment Scheduling
SoftClinic's key advantage over other market solutions is that it is suitable for businesses of varying sizes, and comes with competitive pricing for new healthcare institutes looking to reiterate their telehealth offerings.
Conclusion
Be it the fear to step out, or the ease-of-use that online platforms provide, the future of healthcare have a heavy reliance on Telemedicine.
It's not only hospitals that are inclined towards deploying a solution of their own but the public confidence in Telemedicine is also strong. More patients have accessed a video-based doctor in 2020, than ever.
These are the signs that prove that Telemedicine is here to stay, and will continue to make strides in the healthcare industry. SoftClinic enables hospitals and healthcare professionals to capitalize on its growth.
There is significant proof that Telemedicine will become the "new normal" of healthcare rather than just a panic response to the pandemic.
Also Read: Feature that Your Telemedicine Platform Must-Have